Dua orang Mahasiswa Fisika IPB angkatan 2014, Salahuddin Perdana (lulus) dan Muhammad Sandy Gunawan terlibat aktif dalam publikasi ilmiah berjudul : A Molecular Interaction Analysis Reveals The Possible Roles of Graphene Oxide in a Glucose Biosensor  yang diterbitkan dalam Jurnal Biosensors (Katagori Q1 Scopus di bidang Clinical Biochemistry) pada edisi Januari 2019. Kedua Mahasiswa tersebut terlibat aktif dalam Tim Penelitian Carbon Quantum Dot Fisika IPB yang dibiayai Kemenristekdikti dan diketuai oleh Dr. Tony Sumaryada. Pengalaman publikasi menjadi modal yang sangat penting terutama jika ingin melanjutkan ke jenjang yang lebih tinggi.
Link publikasi di : https://doi.org/10.3390/bios9010018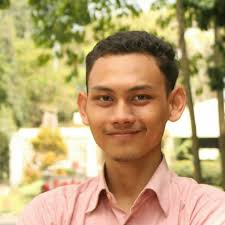 Salahuddin Perdana dan Muhammad Sandy Gunawan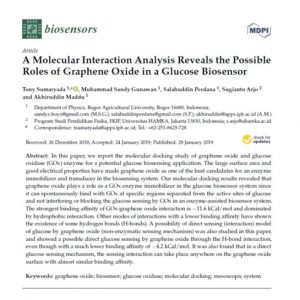 Sementara itu dua orang alumni Fisika IPB angkatan 2012, Siti Rohaeni dan Nurlia Eka Damayanti  bersama Dosen Pembimbingnya Dr. Tony Sumaryada dan Heriyanto Syafutra, M.Si juga baru saja mempublikasikan hasil penelitian terkait riset mereka saat S1 di Fisika IPB. Publikasi mereka berjudul : Simulating The Performance Of Al0.3Ga0.7As/InP/Ge Multi-junction Solar Cells Under Variation of Spectral Irradiance and Temperature  yang diterbitkan pada Jurnal Internasional  Modelling and Simulation in Engineering edisi Februari 2019.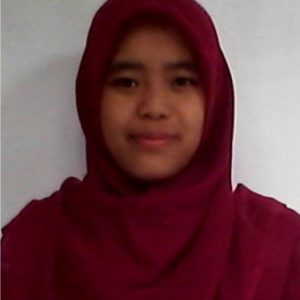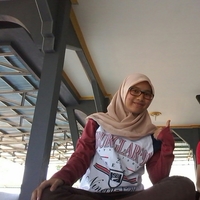 Siti Rohaeni dan Nurlia Eka Damayanti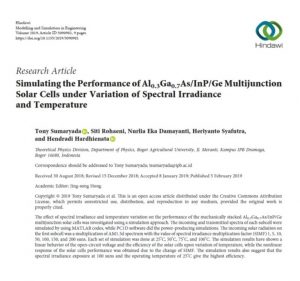 link publikasi di :   https://doi.org/10.1155/2019/5090981