General Facilities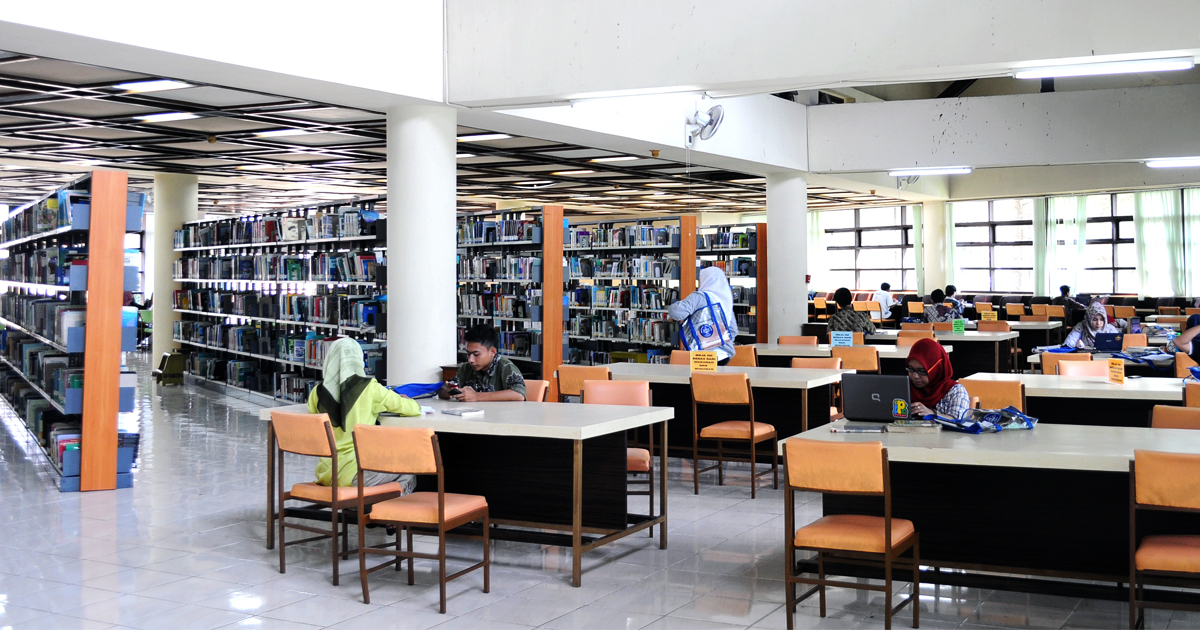 Campus Facilities
Campus facilities in IPB cover 5 campuses to support the academic and daily life of all students and faculty. Some of those facilities are:
Library
The library of IPB University is a scientific information management unit to support educational programs, teaching and research for IPB University academicians by providing various services related to scientific information as required. IPB University library provides services such as membership, borrowing, and returning books, searching for information, user assistance, reference, discussion room, internet services, SNI corner, BI corner, as well as photocopying and scanning services. The online collection of IPB Library can be accessed at http://perpustakaan.ipb.ac.id/
Integrated Service Centre
Operating since 1 February 2019, ISC provides 35 services both online and offline. Besides being served by friendly personnel, visitors are also facilitated with a comfortable waiting room. Coffee Shop Botani Nusantara is a supporting facility that also interesting to be enjoyed. This café located side by side with ISC building. On August 2020, the services were integrated from the website at helpcenter.ipb.ac.id and the feature is also integrated with IPB Mobile based on a ticket system.
Contact of ISC
Gedung Integrated Service Centre (ISC)
Rectorate Building, IPB Dramaga Campus, Bogor
Call Center Whatsapp: +62 812-3451-1394
Email : sscipb@apps.ipb.ac.id
Online Services : helpcenter.ipb.ac.id
Research Station
These facilities include Pasir Sarongge Garden, Gunung Walat Education Forest (GWEF), Tinjil Island, Sabisa Farm, Fish Pond, The Farm of Agribusiness and Technology Park, Cikabayan Farm, Pelabuhan Ratu Field Station. IPB has physical assets in the form of gardens that are very wide and spread in various areas and are located at different altitudes and agro-climates. This provides great benefits for educational purposes because IPB can provide learning to students with various commodities that are suitable for the environment.
Accommodations
Available for any guest visiting IPB are IPB Convention Hotel which is located in the heart of Bogor city. The Landhuis guesthouse, Amarilis guesthouse, and International Dormitory are located in IPB Dramaga Campus, dan Taman Kencana Guest House in Taman Kencana Bogor.
Campus Transportation
Bus and campus bikes are available to support the green campus motto. The bus operates in IPB Dramaga campus with 3 corridors. The bike can be borrowed using student ID and bike lane is available throughout the campus.
Student Dormitories
Dormitory of General Education and Competency Program of IPB University is a supporting unit of learning activities specifically for first-level students. The dormitory building consists of 10 buildings which include 6 female dormitories and 4 male dormitories.
For first-year students, the existence of dormitory greatly facilitates access to the location of classes and practical work, namely the Common Classroom (CCR) and Teaching Laboratory which is very close to the location of the dorm.
Facilities available at the dormitory includes 7 x 24-hour security, study room, lobby, free WIFI, dormitory canteen, and assistance from Senior Resident (SR).
Around the dormitory environment are also facilitates with Automated Teller Machines (ATMs), Agrimart, printing and photocopying facilities so as to facilitate access for students to support their daily life.
Aside from dormitory for first year students that still in the General Competency Education Program (PPKU), IPB also providing dormitories for upper years students which are Sylvasari Dormitory and Dramaga Girl Dormitory (APD).
Common Classroom Building (CCR)
The Common Classroom Building or CCR Building is located on Jl. Meranti Darmaga Campus of IPB and is the main lecture building for PPKU students. The CCR building has 21 lecture halls with a capacity of 135 people, 5 lecture rooms with a capacity of 180 people, and an auditorium with a capacity of 600 people. In this two-story building the Secretariat of the General Competency Education Program (PPKU) and the IPB Counseling Guidance Team are located. Behind the CCR Building is the Ulil Albaab Mosque.
Gedung Teaching Laboratory
The Teaching Laboratory Building or TL Building is located on Jl. Meranti Darmaga Campus of IPB is opposite the CCR Building. As the name suggests, this two-story building is an educational laboratory, especially for first-year students consisting of the Biology Laboratory, Physics Laboratory, and Chemistry Laboratory, in addition to 7 lecture halls with a capacity of 70, 98, and 135 people.
Sports, Arts, and Edutourism
Sports and arts facilities and activities for IPB residents are managed by the Sports, Arts and Agroedutorism Unit which were established in order to support the interest of students, lecturers, education staff, families, and the community in the fields of sports and the arts.
The facilities managed by this unit are sports fields at the Gelora/Gymnasium in the form of football stadiums, athletics, futsal, volleyball, basketball, badminton, fitness, martial arts, table tennis, and at the GOR include badminton courts, tennis courts, volleyball, soccer balls. basketball, softball, bicycle, and others. Art facilities in the form of indoor and outdoor fields as well as bands, choirs, regional and national arts managed by UKM in the field of Arts.
Agroedutourism (Agricultural Education Tourism) is a tourism activity for study purposes that can expand experience, recreation, and knowledge about nature and agricultural technology through agricultural sciences in a broad scope. IPB has several agroedutourism facilities that attract a lot of public interest, including:
a) Cikabayan Experimental Garden
b) Insect Museum
c) BRC IPB Tropical Medicinal Plant Installation Garden
d) Tissue Culture, Plant Biotechnology
e) Ornamental Plant Creativity from Hydrogell
f) Dairy and Yogurt Making
g) Recycle Paper
h) Forest Outbound
i) F- Techno park
j) Landscape Garden Design
k) Trial Pool
l) Faculty of Forestry butterfly breeding
m) Teaching Farm
n) Horta Doll Making
o) Trop Biopharmaca Research Center (Trop BRC)
Health Center
Health services consist of outpatient treatment provided by the IPB Polyclinic, Darmaga Campus, and Baranangsiang Campus, as well as assistance with room and medical expenses for students who are sick and have accidents that require hospitalization.
Halls and Multi-purpose Auditoriums
For events such as guest lecture, cultural events, and others, IPB has multi-purpose auditoriums spread across faculties and campuses. Main Auditorium is called Grha Widya Wisuda with 3000 people capacity and a parking area of up to 800 cars.
Mosque
Al Hurriyyah Mosque of IPB University was built in 1965 and was renovated and expanded in 1992. Al-Hurriyyah can accommodates 5000 people and is ennobled as the biggest campus mosque in Indonesia. The mosque consists of three level. In the ground floor consists of ablution place, hall, bookstore, canteen, and mosque library. The first floor covers the main praying hall for men and other multifunction rooms. In the second floor is specialized for women praying hall. There are garden surround the mosque with mosque main hall, dormitory for mosque caretakers, and wide parking facilities.