Campus Life
Explore our vibrant campus culture
When you join the Department of Physics at IPB University, you'll become a part of the campus culture. You'll also have access to notable and instagramable landmarks in our campus. The free campus bus can take you around campus and gain new experiences.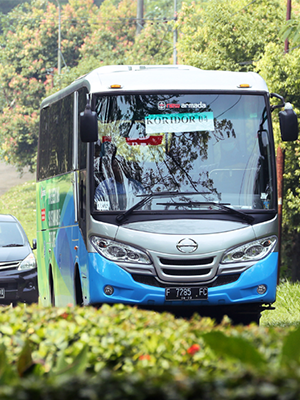 Bus Kampus Taman Inovasi Koin IPB Plaza Fisika Photo Booth Fisika
Live on campus and perform better academically
Some of the Department of Physics facilities can help you to improve your academic performance such as libraries and laboratories. Library (S1) Lab PPKU Lab 1 Lab 2
Get involved in student clubs and activities
If you want to take advantage of the full IPB student's experience, we encourage you to get involved. IPB University has a very active extracurricular involvement program with various opportunities through clubs, community service, leadership, student government and more. Plus, in the Department of Physics, you can join a physics-oriented organization or research initiative to meet students with similar interests as you.
Browse our clubs and organizations in the physics department. Follow social media and join the activities of HIMAFI IPB (Physics Student Association of IPB) to build a spirit of leadership and professionalism among students. Physics Research Club (PRC) can help you to share and improve your knowledge with students and alumni. 
Department of Physics support students to join and achieve champions in local, national or international competition.