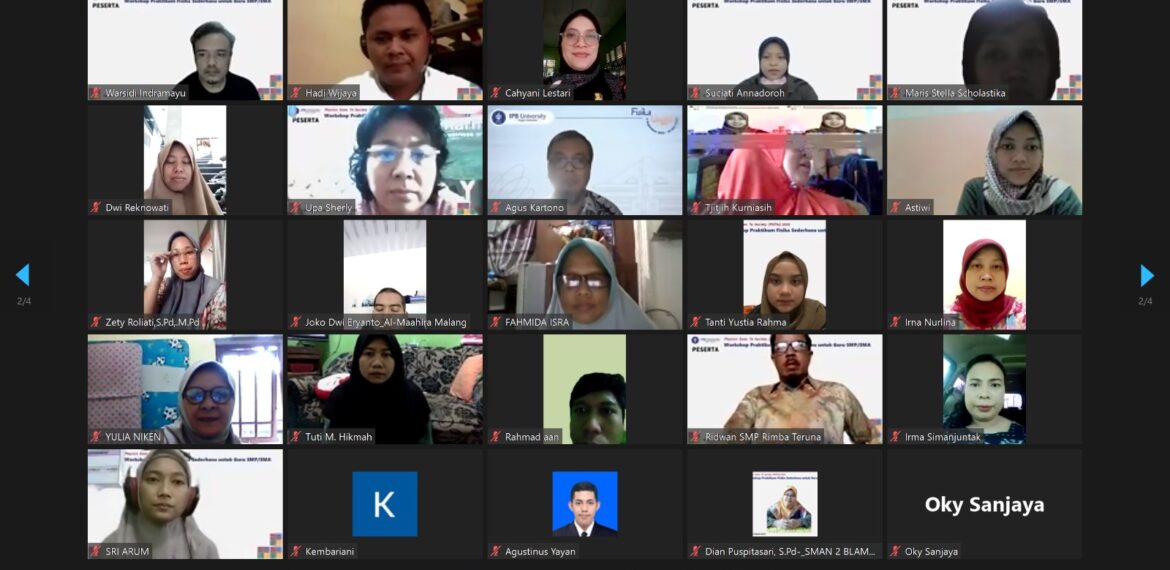 The Physics Department of IPB University Presents Middle/High School Teachers to the Virtual Room in a Practicum Workshop
The Physics Department of IPB University Presents Middle/High School Teachers to the Virtual Room in a Practicum Workshop
Returning to contributing to society, the Department of Physics, Faculty of Mathematics and Natural Sciences (FMIPA) IPB University is holding a Physics Goes to Society (PGTS) activity. The activity was carried out through an online Simple Physics Practicum Workshop for Middle School/High School (SMP/SMA) Teachers, (10-11/3).
At least 150 participants attended the workshop, 70 participants on the first day and 100 on the second day. Participants were junior high school science or high school physics teachers from all over Indonesia.
"This PGTS is carried out in order to support quality education according to sustainable development goals (SDGs) 4. As well as to increase students' interest in studying physics through competent teachers," said the Head of the Physics Department of IPB University, Prof Tony Sumaryada.
He added, the Physics Department of IPB University had been holding PGTS for the last few years, but only this time the target of the activity was extended to all of Indonesia and the workshop was being held online.
There are at least 14 lecturers from the Physics Department of IPB University who are in charge of delivering material at this workshop. The first material presented was 'Physics Practical with Simple Equipment'. This material carries four basic physics experiments that can be practiced with equipment outside the laboratory.
"This material is quite interesting for teachers because limited laboratory equipment is still a problem for many teachers in schools, especially in rural areas," said Prof Tony.
On this occasion, participants also received material related to 'Practicum Data Analysis and Processing', data processing techniques using graphical methods, least squares methods, and numerical methods. The other material is an introduction to physics simulation tools or virtual labs using PhET simulations, followed by an assignment as a case study.
"Case study is quite unique in this workshop. The teachers were given practicum data to be processed in the way that had been previously taught. They have the opportunity to design an experiment in a virtual lab for their students," he added.
One of the participants, Dra Suriati, a State Madrasah Aliyah (MAN) 2 Teacher in Parepare City, expressed her impressions and messages. "Good enough. We feel that we are getting a new experience that can be applied to our students. It's just that, it takes time to repeat it, then apply it."
She hopes that this activity can be sustainable with different materials. "We thank the committee and presenters, may the knowledge be a blessing."
Presented by the Head of the Committee, Dr Heriyanto, this PGTS activity will become a routine activity as a form of dedication from the Physics Department of IPB University to junior and senior high school physics teachers in Indonesia. (*/Rz) (IAAS/MFR)
This news is originally printed in IPB Today