Berprestasi di tengah Pandemi, Mahasiswa Fisika IPB meraih juara IV dalam JOINTS
Berprestasi di tengah Pandemi, Mahasiswa Fisika IPB meraih juara IV dalam JOINTS
Jogja Information Technology Session Universitas Gadjah Mada (JOINTS UGM 2020) adalah rangkaian acara yang dilaksanakan oleh Himpunan Mahasiswa Ilmu Komputer Universitas Gadjah Mada sejak tahun 2001. Kegiatan ini dilaksanakan oleh FASILKOM Universitas Gadjah Mada pada tanggal 26 April 2020 yang diikuti oleh 80 tim dari 14 perguruan tinggi di Indonesia. Mahasiswa Fisika angkatan 54 (Efrad Galio, Imam Muhajir, dan Nova Novianti) berkontribusi dalam pengembangan pemahaman publik terhadap teknologi informasi.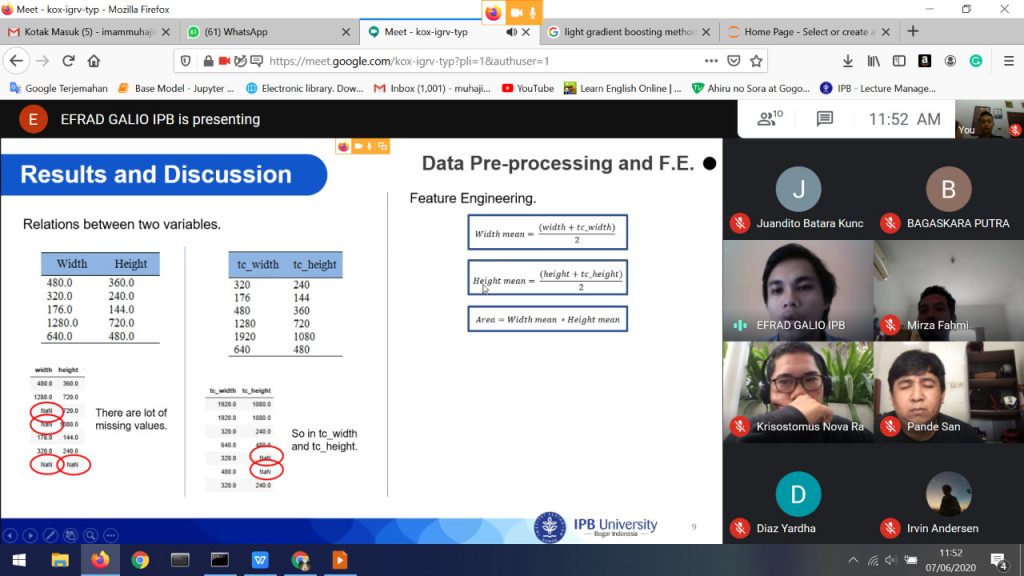 JOINTS memiliki empat kategori lomba, yaitu CTF (Capture The Flag), DM (Data Mining), UX Design (User Experience Design), dan PCS (Programming Competition Session). Pada Kompetisi Penambangan Data (Data Mining), babak penyisihan 1 dilakukan dengan menggunakan platform Kaggle (40% dari nilai akhir) dan penilaian proposal (60% dari nilai akhir) mengenai metode yang digunakan pada kompetisi di Kaggle. Pada kompetisi di Kaggle, didapatkan posisi ke-9 di leader board. Dan hasil proposal yang digunakan berjudul "Prediksi SPAM dengan menggunakan Metode ENSEMBLE: STACKING". Pada babak final (10 tim), para finalis akan melakukan analisis dan prediksi di Kaggle dalam waktu 5 jam. Dan keesokan harinya akan dilakukan presentasi mengenai metode yang digunakan pada kompetisi di Kaggle di hari sebelumnya. Dataset yang digunakan pada babak final adalah dataset mengenai proses transcode video yang akan diklasifikasikan menjadi 4 bagian berdasarkan waktu proses transcode. Terdapat tiga penghargaan yang akan diberikan pada lomba JOINTS, yaitu Juara I, Juara II, dan Juara III.
Mahasiswa Fisika masuk sebagai finalis dan memperoleh Juara IV. Hal yang lainnya yang membanggakan adalah Efrad Galio memperoleh predikat The Most Impressive Presentation Big Data Challenge.
Kesan selama mengikuti lomba: Tantangan baru dan sangat berkesan karena pada babak final dilakukan analisis data hanya dalam waktu 5 jam. Jika pandemi tidak ada, seharusnya dilakukan analisis data selama 5 jam di UGM, bukan di rumah masing-masing.
Pesan: Lomba yang menantang, disarankan untuk ikut lomba yang seperti ini, karena melatih analisis dan critical thinking hanya pada rentang waktu tertentu.